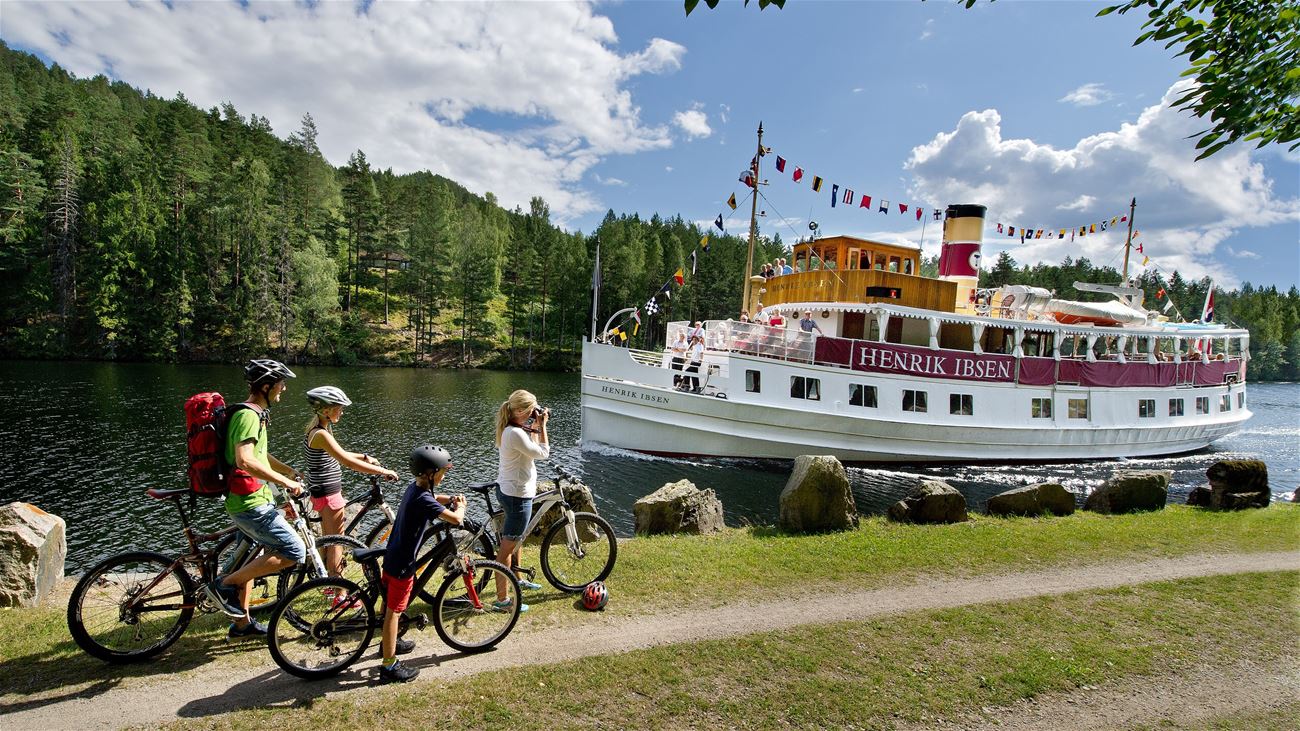 The Canal route – 100 km on bicycle
17 Mai 2021 - 5 September 2021
7 September 2021 - 10 Oktober 2021
16 Mai 2022 - 4 September 2022
6 September 2022 - 9 Oktober 2022
16 Mai 2023 - 9 September 2023
10 September 2023 - 8 Oktober 2023
This is the ultimate cycle trip along the Telemark Canal!
Experience beautiful scenery, lovely accommodations, and an amazing boat trip on the Telemark Canal as the "grand prize" on the last day.

The route runs along roads without much traffic and with a varied terrain.
Some inclines are steep, and the route is relatively long.
Therefore, you should have some cycle experience before embarking on this route.
Travel Route:
Day 1
- Accommodation at Lunde Vandrerhjem.
Day 2
- Breakfast at Lunde Vandrerhjem.
- Cycle trip of the day: Lunde – Vrådal, approximately 55 kilometers.
The road consists mainly of asphalt, on roads with little traffic. Some parts are on gravel.
Varied terrain with some steep inclines.
- Accommodation at Straand Hotel in Vrådal.
- Dinner at the hotel.
Day 3
- Breakfast at the Straand Hotel.
- Cycle trip of the day: Vrådal – Dalen, approximately 45 kilometers.
The road consists of both asphalt and gravel, with little traffic.
Varied terrain, with steep declines.
- Accommodation at Dalen Hotel.
- 4-course dinner at the hotel.
Day 4
- Kl. 08.00 / 08.50 departure with one of the canal ships from Lastein pier in Dalen.
- Meals on board: Breakfast is included in the package.
- Kl. 13.10 arrival at Lunde lock.
Practical information during the trip:
Parking:
Your car can be parked free of charge at the parking lot about 200 meters from Lunde lock, or at Lunde Vandrerhjem.
Food and beverage:
There is a restaurant on board the canal boats.
Included in this package you will be served breakfast after departing Dalen.
Seating time to be agreed directly with the restaurant staff once you have boarded.
You can also order food directly at the boat from their menu.
It is not possible to book a table for the entire journey.
Food and beverage during the cycle trip:
Please note that there is no place to buy food, snacks, or drink on the legs between Lunde and Vrådal or Vrådal and Dalen.
Be sure to bring enough food and water.
There are grocery stores in Lunde and Vrådal.
At Straand Hotel in Vrådal and at Lunde Vandrerhjem you have a possibility to buy and pack a lunch to bring on the trip towards Dalen.
The cycle trip:
The cycle trip is a part of a national cycle route program.
This specific route is called "the canal route".
In Lunde you can buy maps of the route at Telemark Canal Camping, close to Lunde lock.
If you don't have your own bicycle, you can rent it at Telemark Canal Camping: www.kanalcamping.no
Please note that on the first leg between Lunde and Vrådal, there are two tunnels without lights.
It is important that you bring lights for the cycle, or a headlight.
This is for your own safety.
Before you board the canal boat, please be sure to empty you bicycle, and bicycle trailer, for luggage.
It is important that they are as light as possible before they are lifted on the top of the boat.
The owner must be attending in both loading and unloading.
Maximum weight for bicycles is 25 kg.
Please note that we do not have the capacity to welcome tricycles or other large cycles.
El-bikes: It is prohibited to charge batteries on board due to fire hazard.
Please note that all equipment is transported at your own risk.
Practical information for the accommodations:
Lunde Vandrerhjem:
They have free parking for their guests.
If you have an electrical car, then charging the car is against a fee.
Every room has their own bathrooms, TV and wifi.
They have great common areas, such as a living room and a terrace.
The guests also have access to a kitchen, so it is possible to buy groceries and prepare their own food.
Other dining possibilities in Lunde is at the restaurants near Lunde center, which is about 600 meters in walking distance.
Straand Hotel:
Dinner is served in the restaurant in the evening.
Time to be agreed directly with the hotel staff when checking in.
Straand Hotel is a part of the Historic Hotels and Restaurants in Norway.
The hotel is known for their warm atmosphere and delicious food.
They have their own beach, a swimming pool, and many other facilities.
Dalen Hotel:
A 4-course dinner is served in their restaurant after kl. 18.00.
Exact time will be informed during check in.
In the evening, the restaurant has a smart casual dress code.
It is possible to borrow a suit jacket at the hotel.
Dalen Hotel is known as the fairytale hotel from 1894.
The hotel has a grand romantic style with dragon heads, towers and spiers, balconies, and cornices.
This is one of the oldest wooden hotels in Norway and is a member of the Historic hotels and restaurants.
Booking and payment:
Rate:
From NOK 5377,- per person.
The rate for this package can vary when it comes to your choice of date and room type.
Please select date of choice to see the package rate.
PS! These are rates for online bookings.
Fee for bookings made over phone or email is NOK 80,- per person.
Periods 2023:
16. May – 7. September: Daily.
10. September – 7. October: Sundays - Wednesdays (boat trip Wednesday), Tuesdays - Fridays (boat trip Friday) and Thursdays - Sundays (boat trip Sunday).
Booking:
Due to high demand, we recommend that you order in advance.
Do not wait until the day before.
Payment:
All reservations must be paid in full when booking.